Historical High Grade Gold Mine
Overview
Transatlantic commenced leasing the historic US Grant Gold Mine and surrounding Alder Mountain tenement claims from January 18 2016 for a period of 16 months. This lease comes with an exclusive option to purchase 100% ownership (TCO News Release – US Grant Lease & Option Agreement ).
The Mine has had historical high grade gold and silver mined periodically between 1867 and 1984 as one of the highest grade gold mines in the immediate region. Production records are not well documented with historic mining grades estimated as 0.2 to 0.25 % Au and 5 to 10 oz /t Ag(Saunders 1988).
The US Grant Mine is located 2 km southeast of Virginia City and has a current mine permit and processing facility that will enable a fast track to modern day high grade, high margin gold-silver production.
The geology of the US Grant Mine indicates numerous veins with the most prominent and mined being the US Grant Vein and the sub parallel El Fleeda Vein.
The underlying host rock is a Pre-Cambrian granitic gneiss with sets of fissure veins ranging in width on 2 predominant orientations.  The US Grant Vein is known for a minimum 1200 metres long of which only had partial mining thereon.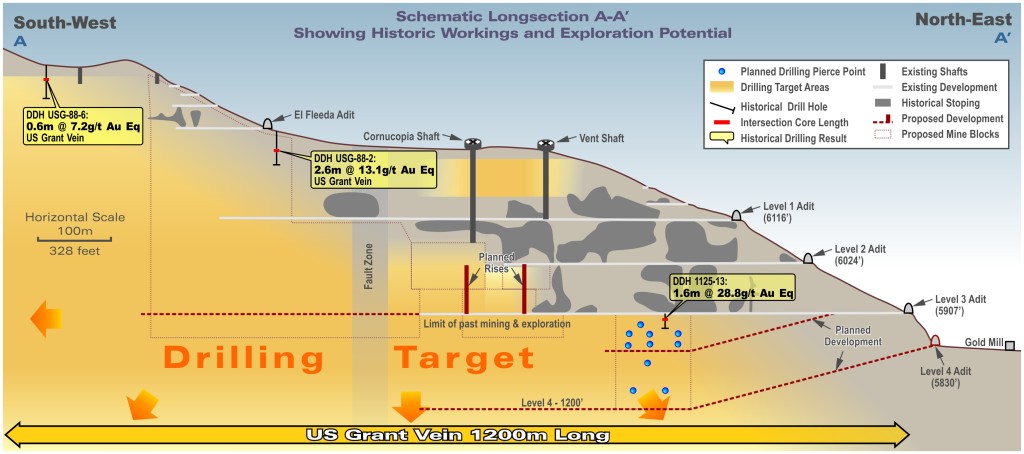 Historical drilling grades are reflected in the following holes as:
1125-13   :   9.8 m at 9.3 g/t Au  and 377 g/t Ag downhole
USG 88-2 :   2.6 m at 10.7 g/t Au and 170 g/t Ag downhole
USG 88-6 :   0.6 m at 3.5 g/t Au  and 269 g/t Ag downhole
The US Grant properties mineralization occurs in narrow moderately dipping vein systems, with a range in width from 0.5 to 5 m reported.
The long section highlighted above indicates a high percentage of economic material extracted and supports drill testing deeper and along strike of the mineralized vein structures.
Location and Geology
US Grant Mine is located in the Madison County District within the Tobacco Root host rock formation which has seen historical Placer gold producing in excess of 2.5Moz Au in the Alder Gulch through the early 1860s to 1900's period. This formed a gold rush into the region as a new frontier with Virginia City being the then capital of the new territory at that time.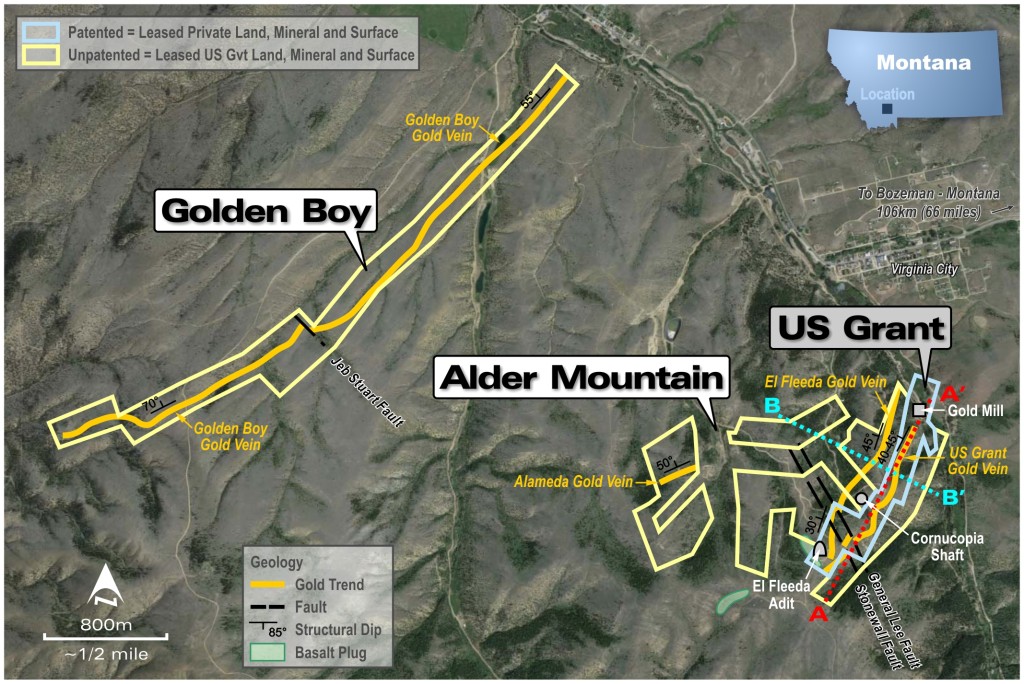 The district is considered epithermal where there is zonation of gold and silver rich ores with secondary zonation of galena and copper based minerals through different parts of the fissure vein system distal to intrusive based batholiths.  There are some models that consider the rocks to be mesothermal implying deeper mineralised pathway systems.
The US Grant Mine and veins lie between the Alder and Browns Gulch and outcrop on the surface within the foliated gneiss host rock.
There are a number of high grade veins that have been mined through the district to the order of some 1500 known veins and/or workings through different ownership structures and history.
Historical Development
The US Grant Mine was staked in 1867 as a Gold claim with a subsequent private patent placed over the tenement claims in 1869. The mine has been developed on 3 levels to approximately 200m in depth. There is no deep drilling on the US Grant Vein nor the El Fleeda Vein.
The modern day mill was installed in 1976 with the last continuous mining and milling being undertaken in 1986.
The Mine is currently a track and rail mine that will be modernised in the near future.   The recent owners have been in the process of upgrading the mill and mine further for future exploitation.
US Grant Vein  = 1200 m (3600 ft)
Known Depth =  200 m
Historic Widths = 0.5 to 5 m wide
The US Grant Vein is considered the primary production target on the Alder Mountain Project with early drilling and production forecast.  Underground development on the US Grant Mine consists of 3 access levels and a process plant with additional exploratory mining opportunity on the parallel El Fleeda and Cornucopia Veins. This is amongst numerous other vein targets from the mine infrastructure with additional exploration.
The US Grant Vein has been partially developed on all levels with extensions past the current 3 level development of approximately 800 m (2285 ft) on vein most likely, the 2 level approximately 500 m (1425 ft) and the 1 Level 160 m (485 ft). The Cornucopia Vein has also been developed approximately 300 m (850 ft).
Next Steps
Transatlantic is planning drilling programs and has recently commenced mine development to access ore below the 3 level on the mine.
This will provide a fast, low capital investment for generating cashflow during the lease period as well as the drilling to develop and access a mineral resource and reserve for future mine exploitation and production growth.
There is an exploration and mining program to develop and test other targets at the US Grant Mine in concert with distal exploration at the Golden Boy and Almeda vein sets on the property.
Chris Pfahl, owner and principal of Silver Valley Engineering, is the Qualified Persons responsible for having reviewed and approved the technical information presented.