Overview
Transatlantic commenced an exclusive 8 month due diligence period effective May 1st 2017 with an option to lease and purchase Kearsarge Claim Group (KCG) from December 2017. Thereafter, an exclusive option to lease for 10 years with an option to purchase 100% ownership at any time. (News Release – Kearsarge May 4, 2017).
The Kearsarge Gold Project is over 600 acres of private patented claims. The mine has a 'historical resource estimate' stated in 1995 of 600,000 gold ounces (Hannover 1995 Annual Report) that requires further evaluation by TCO1.
The Kearsarge Gold Project is located 8 km southeast of Virginia City and has numerous adits and old workings of 3,000 feet currently in unknown conditions in the 1990s with all mines and access closed in 2001. Prior to 1903, a stamp mill was in place and 800 feet of lateral and vertical development from a shaft that went to a total depth of 400 feet.
The geology of the Kearsarge area indicates numerous veins within a wide shear system of 150 feet (50 meters) wide, the most prominent being the Kearsarge and the sub parallel Big Vein composed of quartz-adularia-carbonate with pyrite veinlets. Visible gold has been noted previously, though has been stated as rare to see. The known strike length of the higher grade domains are over 1200 feet (400 meters) of the greater vein system that extends over the length of the property to 1200 feet (3500 meters) in strike length.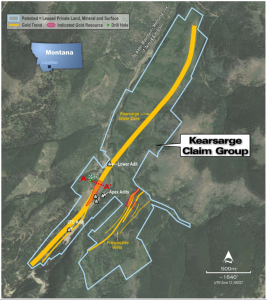 Historical drilling grades are reflected in the following hole:
KSR1 – 13.7 m at 8.3 g/t Au (10 m true width) within a zone of 57 m at 2.8 g/t Au (45.7m true width)
Kearsarge Gold Project has a 'historical resource estimate' that states 600,000 gold ounces (highlighted as red hatched area in figure)1. This requires further due diligence from the stated 1995 Hannover Gold Annual Report as highlighted in the red hatched area.
The following highlights the information used to determine the historical resource estimate:
| | | |
| --- | --- | --- |
| Company and Year | Type Of Activity | Quantity |
| Kennecott 1992-1993 | Diamond drilling | 16 holes |
| Kennecott 1993 | Reverse Circulation Drilling | 19 holes |
| Hannover Gold 1994/1995 | Mine development/Cross cuts | 3,000 feet |
| Hannover Gold 1994/1995 | Underground Diamond Holes | 26 holes |
| Hannover Gold 1994/1995 | Mapping and sampling underground | |
Location and Geology
The Kearsarge Gold Project is 8 km from the US Grant Mine in the Madison County District within host rock formations which have historical placer gold production in excess of 2.5M gold ounces and up to 9M gold ounces in the Alder Gulch between the early 1860s to 1900's period. This formed a gold rush into the region as a new frontier with Virginia City being the then capital of the new territory.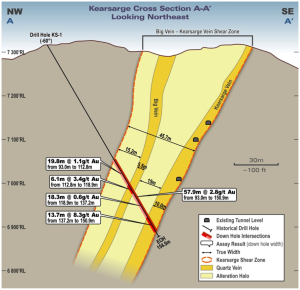 The district is considered deep orogenic as part of the sources that developed over 100 vein mines in the Virginia City Mining District.
Close to the Kearsarge, the gold is characterized as low in silver where zonation of gold and silver rich ores with secondary zonation of galena and copper based minerals vary through different parts of the fissure vein system distal to the intrusive based batholiths. The large silicified shear zone is dominated by sulfide bearing quartz veins at the deepest parts of the mine development.
The Kearsarge Gold Project and veins are northeast trending and lie directly up the Alder Gulch with the Big Vein being the original found outcropping on a road cutting. There are a number of high grade veins that have been mined through the district to the order of some 100 known veins and/or workings through different ownership structures and history.
Historical Development
The Kearsarge Mine was discovered in time near to all other veins in the district (1860's) as a gold claim with a subsequent private patent placed over the tenement claims. The mine has been developed on 3 modern levels in the 1990's to approximately 200m in depth.
There is no mill currently in place at the site though it had a stamp mill in 1903. Up until that time there was over 8000 feet of lateral and vertical development to a shaft with a total depth of 400 feet.
Historical production is not well documented; however, between 1864 and 1881, 7,500 ounces of gold was produced. The mine is currently abandoned and will require rehabilitation and evaluation prior to future mining activities.
Kearsarge Vein = 3,500 m
Dip of Vein and Shear Zone = approximately 70 degrees
Current Known Depth =  150 – 200 m
Historic Widths = 0.5 to 15 m wide
Shear Zone with historic widths within an associated low grade halo of approx. 50 m
The Kearsarge Vein is considered the primary production target within the Kearsarge Gold Project. The previous operator's drilling was used to determine a historical estimated mineral resource that is open at depth and along strike.1
There has been underground development on the Kearsarge Vein on 3 access levels from over 3000 feet of lateral development opened prior to 1996. There are further opportunities in close proximity including the Big Vein, Lucas and additional parallel veins.
Next Steps
Transatlantic is planning due diligence evaluation of all electronic assay data and mine plans to determine the option to lease and acquire the project by December 2017.
The Kearsarge Gold Project will provide a fast, low capital investment for generating cashflow during the lease period as well as the diligence drilling to develop best access to a future mineral resource and reserve for future exploitation. In concert with the US Grant Mine and Mill only 8 km away, Kearsarge will provide long life sources for future economic evaluation and extraction.
1A mineral resource has not been established or defined. The Company is not treating the historical estimate as a current mineral resource or reserve and will develop a plan to evaluate the information during the due diligence period.
Chris Pfahl, owner and principal of Silver Valley Engineering, is the Qualified Persons responsible for having reviewed and approved the technical information presented.